A review of the effects of media on foreign language vocabulary acquisition
Keywords:
Media, EFL, ESL, Social media, Vocabulary
Abstract
The current review article is accomplished to evaluate the effectiveness of a variety of social media in learning a foreign language vocabulary among learners. Another objective is to give some suggestions for using social media in teaching vocabulary based on its influence on students' performance and teachers' and students' perspectives about this method of teaching and learning. The root of the article included several main features such as the authors, the aims, the participants, and the results or the implications of the study. Through the review article, it is clear that social media is one of the most efficient means to promote vocabulary learning among EFL and ESL learners since it involves several benefits that are demonstrated in the following articles.
References
Abbas, A., Gulzar, R., & Hussain, Z. (2019). The Impact of Social Media (Facebook and Youtube) on Vocabulary Acquisition of ESL learners. Journal of Communication and Cultural Trends, 1(1), 27-44. doi:https://doi.org/10.32350/jcct
Aghlara, L., & Tamjid, N. H. (2011). The effect of digital games on Iranian children's vocabulary retention in foreign language acquisition. Procedia - Social and Behavioral Sciences, 29(2011), 552-560.
Akkuzu, M. (2015). A Game-Based Application on English Vocabulary Acquisition: A Case Study in the EFL Context. Master of Science in Information Systems Department, Middle East Technical University.
Bakar, N. A., & Nosratirad, E. (2013). Sustaining Vocabulary Acquisition through Computer Game: A case study. Asian Social Science, 9(5), 235-242.
Centinkaya, L., & Sutcu, S. S. (2019). Students' Success in English Vocabulary Acquisition through Multimedia Annotations sent via Whatsapp. Turkish Online Journal of Distance Education, 20(4), 85-98.
Ebrahimzadeh, M. (2017). Readers, Players, and Watchers: EFL Students' Vocabulary Acquisition through Digital Video Games. English Language Teaching, 10(2), 1-18. doi:10.5539/elt.v10n2p1
Faizi, R., & Afia, A. E. (2014). Social Media: An Optimal Virtual Environment for Learning Foreign Languages. IJET, 9(5), 64-66.
Han, M., & Niu, S. (2019). Effect of Computer Multimedia Assisted Word Annotation on Incidental Vocabulary Acquisition of English Reading. IJET, 14(13), 21-32. doi:https://doi.org/10.3991/ijet.v14i13.10705
Kabooha, R., & Q Elyas, T. (2015). The impacts of using Youtube videos on learning vocabulary in Saudi EFL classrooms. Proceedings of ICERI2015 Conference 16th-18th November 2015, Seville, Spain, 3525-3531.
Kim, D., & Gilman, D. A. (2008). Effects of Texts, Audio, and Graphic Aids in Multimedia Instruction for Vocabulary Learning. Educational Technology & Society, 11(3), 114-126.
Kurniawan, R. (2019). The role of Social Media towards the English Vocabulary Acquisition for the Students of SMK Negeri 7 Semarang. English Department Faculty of Languages and Arts Semarang State University.
Kuśnierek, A. (2016). The role of music and songs in teaching English vocabulary to students. World Scientific News, 43(1), 1-55.
Letchumanan, K., & Hoon, T. B. (2012). Using Computer Games to Improve Secondary School Students' Vocabulary Acquisition in English. Pertanika Journals, 20(4), 1005-1018.
Mousavi, F., & Gholami, J. (2014). Effects of Watching Flash Stories with or without Subtitles and Reading Subtitles on Incidental Vocabulary Acquisition. Procedia – Social and Behavioral Sciences, 98(2014), 1273-1281. doi:10.1016/j.sbspro.2014.03.543
Pamintuan, C. F., Mallari, D. G., Garcia, N. T., Galang, J. P., & Buduan, R. B. (2018). The Use of WeChat Application on CFL Learners' Vocabulary Acquisition. TESOL International Journal, 13(4).
Shao, J. (2012). A study of Multimedia Application-based Vocabulary Acquisition. English Language Teaching, 5(10), 202-207. doi:10.5539/elt.v5n10p202
Sivagnanam, S., & Yunus, M. M. (2020). Utilizing Social Media in Vocabulary Enhancement among Primary ESL Learners. Universal Journal of Educational Research, 8(2), 490-498. doi:10.13189/ujer.2020.080220
Wang, B. T., Teng, C. W., & Cheng, H. T. (2015). Using iPad to Facilitate English Vocabulary Learning. International Journal of Information and Technology, 5(2), 100-104.
Yip, F. W., & Kwan, A. C. (2006). Online vocabulary games as a tool for teaching and learning English vocabulary. Educational Media International, 43(3), 233-249. doi:10.1080/09523980600641445
Yuksel, D., & Tanriverdi, B. (2009). Effects of watching captioned movie clip on vocabulary development of EFL learners. The Turkish Online Journal of Educational Technology, 8(2).
Zainal, Z., & Rahmat, N. H. (2020). Social Media and Its Influence on Vocabulary and Language Teaching: A Case Study. European Journal of Education Studies, 7(11).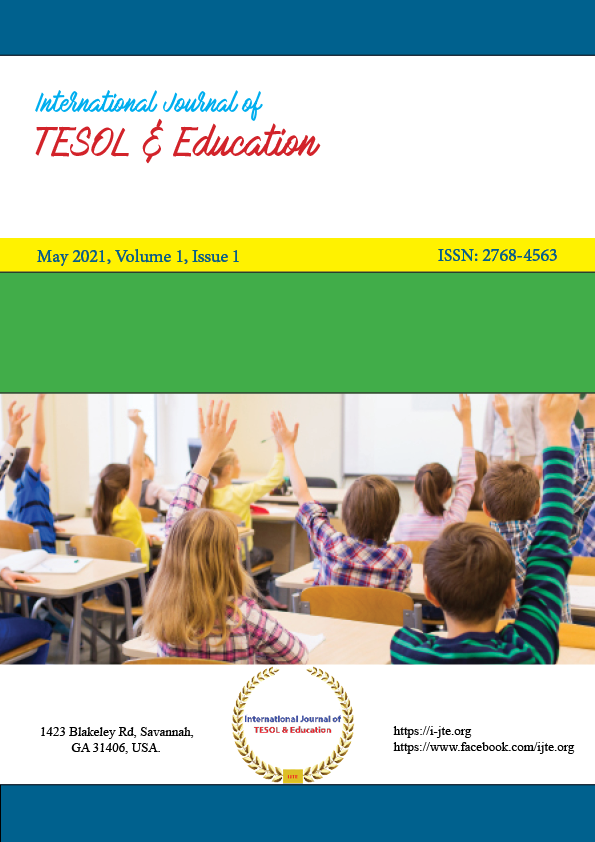 Downloads
How to Cite
Nguyen, N. T. T. (2021). A review of the effects of media on foreign language vocabulary acquisition. International Journal of TESOL &Amp; Education, 1(1), 30–37. Retrieved from https://i-jte.org/index.php/journal/article/view/5
License
Copyright (c) 2021 Nguyen Thi Thao Nguyen
This work is licensed under a Creative Commons Attribution 4.0 International License.
Authors retain copyright and grant the journal the right of first publication with the work simultaneously licensed under a Creative Commons Attribution 4.0 International License that allows others to share the work with an acknowledgment of the work's authorship and initial publication in this journal.
Authors are able to enter into separate, additional contractual arrangements for the non-exclusive distribution of the journal's published version of the work (e.g., post it to an institutional repository, in a journal or publish it in a book), with an acknowledgment of its initial publication in this journal.
Authors are permitted and encouraged to post their work online (e.g., in institutional repositories or on their website) prior to and during the submission process.