Dificulties when studying away from home
Keywords:
away from home, difficulties, studies
Abstract
This study points out the difficulties of being away from home and shows that going away from home is not easy, showing the importance of homesickness and the challenges of going away.  We divide each other to collect data from 416 out of 735 students far away from home, such as Van Lang students University and other universities, especially college freshmen, to survey and analyze. Finally, through research, we find that there are some differences between male and female, between first-year college students living in dormitories located inside the campus and those living in boarding houses outside the campus, between freshman and university students of other courses about homesickness levels, score achievements and other issues. However, most of the students away from home miss their friends and family very much. The financial, environmental, social issues show that they all think that studying away from home is not easy as they thought.
References
Calaguas, G., M. (2014). Living away from home: Homesickness as experienced by college freshmen. Cypriot Journal of Education Sciences. 9(4), 270-279.
Firmin, M., Johnson, C., & Yoder, S. (2009). A qualitative analysis of altered social and familial interactions by students attending college significant distances from home. Enrollment Management Journal, 3, 55-75.
Emma, P., Clare, H., Alex, M., Helena, T., Morwenna, B. (2019). Impact of the student finance system on participation, experience and outcomes of disadvantaged young people. Government Social Research.
Thurber, C.A., & Walton, E.A. (2012). Homesickness and adjustment in university students. Journal of American College Health, 60(5).
Thurber CA, Walton E. (2007). Preventing and treating homesick-ness. Pediatrics. 119:843–858.
Stroebe M, van Vliet T, Hewstone M, Willis H. (2002). Homesickness among students in two cultures: antecedents and consequences. Br J Psychol. 93:147–168
Tartakovsky E. (2007). A longitudinal study of acculturative stress and homesickness: high school adolescents immigrating from Russia and Ukraine to Israel without parents. Soc Psychiatry PsychiatrEpidemiol. 42:485–494.
Scopelliti M, Tiberio L. (2010). Homesickness in university stu-dents: the role of multiple place attachment. Environ Behav.42:335–350.
Lubke, J.R., & Etzel, E.F. (2007). College adjustment experiences of first-year students: Disengaged athletes, non-athletes, and current varsity athletes. Journal of Student Affairs Research and Practice, 44(3).
Urani MA, Miller SA, Johnson JE, Petzel TP. (2003). Homesickness in socially anxious first year college students. Coll Stud J. 392–399
Rose AA. (1947). A study of homesickness in college freshmen. J Soc Psychol. 26:185–202.
Al-Qaisy, L.M. (2010). Adjustment of college freshmen: The importance of gender and the place of residence. International Journal of Psychological Studies, 2(1), 142-150.
Levinson, E.M., & Ohler, D.L. (1998). Transition from high school to college for students with learning disabilities: needs, assessment and services. North Carolina: The University of North Carolina Press.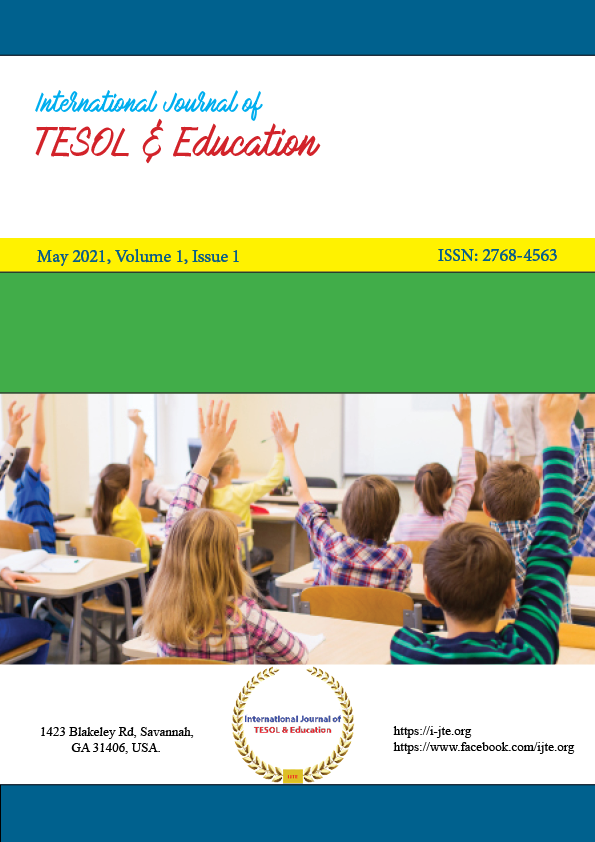 Downloads
How to Cite
Hinh Sai Nghiem, Le, T. T. K., Ly, T. N. A., Tang, V. Y., & Phan, T. T. M. (2021). Dificulties when studying away from home. International Journal of TESOL & Education, 1(1), 1–12. Retrieved from https://i-jte.org/index.php/journal/article/view/1
License
Copyright (c) 2021 Hinh Sai Nghiem, Tuyen Thi Kim Le, Thu Ngoc Anh Ly, Van Y Tang, Thu Thi Minh Phan
This work is licensed under a Creative Commons Attribution 4.0 International License.
The copyright of all articles published in the International Journal of TESOL & Education (ijte) remains with the Authors, i.e. Authors retain full ownership of their article. Permitted third-party reuse of the open access articles is defined by the applicable Creative Commons (CC) end-user license which is accepted by the Authors upon submission of their paper. All articles in the ijte are published under the CC BY-NC 4.0 license, meaning that end users can freely share an article (i.e. copy and redistribute the material in any medium or format) and adapt it (i.e. remix, transform and build upon the material) on the condition that proper attribution is given (i.e. appropriate credit, a link to the applicable license and an indication if any changes were made; all in such a way that does not suggest that the licensor endorses the user or the use) and the material is only used for non-commercial purposes. 
Authors retain copyright and grant the journal the right of first publication with the work simultaneously licensed under a Creative Commons Attribution 4.0 International License that allows others to share the work with an acknowledgment of the work's authorship and initial publication in this journal.
Authors are able to enter into separate, additional contractual arrangements for the non-exclusive distribution of the journal's published version of the work (e.g., post it to an institutional repository, in a journal or publish it in a book), with an acknowledgment of its initial publication in this journal.