Direct Direct Apology Strategies and Their Lexicogrammatical Realizations in English Conversations
Implications for EFL Students
Keywords:
apology; English conversations; lexicogrammar realizations; occurrence; strategies.
Abstract
One of the most prevalent speech acts across languages and cultures is apologizing. It plays an important role in conversations which helps maintain social relationships. Many researchers in this field have proposed several apology strategies; however, this article aims to examine the direct apology strategies and the lexicogrammatical realizations of utterances, including apologies in English conversations. This is a descriptive qualitative study that gathered data from conversations extracted from romance and family film scripts. This study was also supported with quantitative information in order to seek the answers to three research questions. The findings show that expression of regret was the most prominent direct apology strategy, which the characters took advantage of in English-language conversations in film scripts. In terms of lexico-grammar, the utterances with the occurrence of sorry and its other realizations appeared most frequently.
References
Abdi, R., & Biri, A. (2014). A Study of Apology Speech Act in Sitcoms: Implications for Language Teaching and Learning. Journal of Modern Research in English Language Studies, 1(3), 57-37.
Awedyk, W. (2011). On apologizing in Norwegian. Folia Scandinavica Posnaniensia, 13, 50-62.
Brown, A. & Gullberg, M. (2008). Bidirectional crosslinguistic influence in L1-L2 encoding of manner in speech and gesture: A study of Japanese speakers of English. Studies in Second Language Acquisition, 30(2), 225-251.
Garcia, C. (1989). Apologizing in English: Politeness strategies used by native and non-native speakers. Multilingual-Journal of Cross-Cultural and Interlanguage Communication, 8(1), 3-20.
Halliday, M. A. K., & Matthiessen, C. M. (2013). Halliday's introduction to functional grammar. Routledge.
Holmes, J. (1990). Apologies in New Zealand English. Language in society, 19(2), 155-199.
House, J. (1988). "Oh excuse me please ... ": Apologizing in a foreign language. In B. Kettemann, P. Bierbaumer, A. Fill & A.Karpf (Eds.), Englisch als Zweitsprache, 303-327. Narr.
Hussein, R., & Hammouri, M. (1998). Strategies of Apology in Jordanian Arabic and American English. Grazer Linguistische Studien, 7(49), 37-50. Sugimoto, N. (1997). A Japan-US comparison of apology styles. Communication Research, 24(4), 349-369.
Hutchby, I., & Wooffitt, R. (2001). Conversation analysis: Principles, practices and applications. Polity.
Hutchby, I. (2017). Conversation analysis. The Wiley‐Blackwell encyclopedia of social theory, 1-9. https://doi.org/10.1002/9781118430873.est0069.
Leech, G.N. (1983). Principles of pragmatics. Longman.
Mecheti, M., & Hudson, G. (2014). Sitcoms: A window of opportunity for Teaching and Learning. Humanising English Language Teaching, 14(5).
Ngo, T. H. T.,& Tran, T. T. O.(2021). The English-majored Students' Practices of Mind Maps in Writing Skills. International Journal of TESOL & Education, 1(3), 301-312. EOI: http://eoi.citefactor.org/10.11250/ijte.01.03.017
Nguyen, T. T. (2010). Apologizing strategies by American speakers of English and Vietnamese speakers of English. Doctoral dissertation, University of Foreign Languages and International Studies.
Nikmah, M.T. (2012). Analysis of apology as a politeness style of expressed by the characters in the twilight saga movie. Unpublished MA thesis. State Institute of Islamic Studies, Salatiga, Indonesia.
Olshtain, E. (1989). Apologies across languages. In S. Blum-Kulka, J. House & G. Kasper (Eds.), Cross-cultural pragmatics: Requests and apologies (pp.155-173). Ablex Publishing Corporation.
Sari, D.P. (2009). Apologizing acts in the film entitled "Pretty woman". Unpublished MA thesis. Sebelas Maret University, Surakarta, Indonesia.
Searle, J. R. (1969). Speech acts: An essay in the philosophy of language (Vol. 626). Cambridge University Press.
Shariati, M. & Chamani, F. (2010). Apology strategies in Persian. Journal of Pragmatics, 42(6), 1689-1699.
Sienes, M. J. V., & Catan, J. E. C. (2022). The Speech Act of Apology by Filipino Call Center Agents. International Journal of TESOL & Education, 2(1), 117-128. DOI: https://doi.org/10.54855/ijte.22218
Trosborg, A. (2011). Interlanguage pragmatics: Requests, complaints, and apologies (Vol. 7). Walter de Gruyter.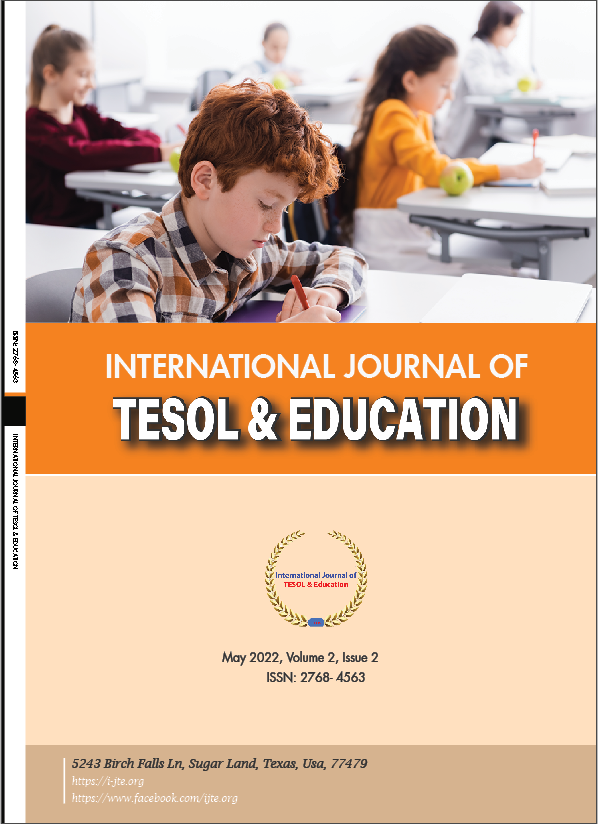 Downloads
How to Cite
Ngo, T. H. T., & Luu, Q. K. (2022). Direct Direct Apology Strategies and Their Lexicogrammatical Realizations in English Conversations: Implications for EFL Students. International Journal of TESOL & Education, 2(2), 82–94. https://doi.org/10.54855/ijte.22225
License
Copyright (c) 2022 Ngo Thi Hien Trang, Luu Quy Khuong
This work is licensed under a Creative Commons Attribution 4.0 International License.
The copyright of all articles published in the International Journal of TESOL & Education (ijte) remains with the Authors, i.e. Authors retain full ownership of their article. Permitted third-party reuse of the open access articles is defined by the applicable Creative Commons (CC) end-user license which is accepted by the Authors upon submission of their paper. All articles in the ijte are published under the CC BY-NC 4.0 license, meaning that end users can freely share an article (i.e. copy and redistribute the material in any medium or format) and adapt it (i.e. remix, transform and build upon the material) on the condition that proper attribution is given (i.e. appropriate credit, a link to the applicable license and an indication if any changes were made; all in such a way that does not suggest that the licensor endorses the user or the use) and the material is only used for non-commercial purposes. 
Authors retain copyright and grant the journal the right of first publication with the work simultaneously licensed under a Creative Commons Attribution 4.0 International License that allows others to share the work with an acknowledgment of the work's authorship and initial publication in this journal.
Authors are able to enter into separate, additional contractual arrangements for the non-exclusive distribution of the journal's published version of the work (e.g., post it to an institutional repository, in a journal or publish it in a book), with an acknowledgment of its initial publication in this journal.